In August of 2012  a few friends of mine got together and  decided to form  a modular railway club. The theme would be loosely based on Indian Railways as not many people have done that successfully and it was a itch everybody wanted to scratch . While i myself am not too inclined towards Indian Railways, my main interest being in German Railways , i decided i needed to build the staging yard as not only could that serve the needs of the Indian Railway Modular Club ,  it could also double up as a universal staging yard for some of the smaller modular layouts i wanted to build in German Railways .
So after a lot of googling and sketching i finally came up with a staging yard design which would serve the purpose. I drew it up on the model railroad CAD program – 3rdPlanit –  and basically ended up with two modules each about 2 ft wide and 6 ft long for a total length of 12 feet ………
and here is what i expect it to  look like in 3d ……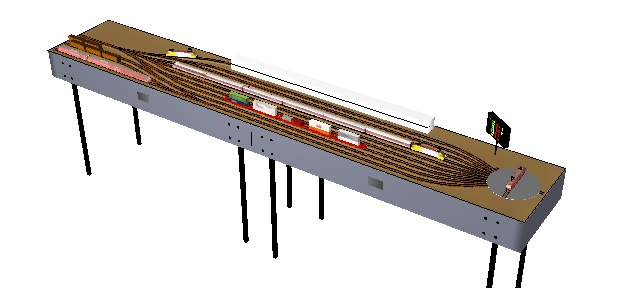 the salient features…..
fremo compatible end plates
trains length vary from 1.5m to 2m
9 trains can be stored along with 4 short trains like rail buses or engines
trainsafe cassette interchange capability for lengths upto 2 m giving infinite # of trains storage
all trackage code 100 peco track for universal compatibility with all wheel types
all points peco code 100 medium radius electrofrog again for maximum compatibility
fleischmann turntable with remote track selector
digitrax dcc with radio control
DCC controlled uncoupling electromagnets and points
automatic route control – 1 btn will select the track the train needs to go into when entering the yard
floating control panel will mean staging yard can be operated from anywhere around the layout
4 loconet panel on fascia so throttles can be plugged in anywhere
track detection circuitry for computer control
Signalling possibility
an interesting article on staging yards and their types can be found here ……
next in the series …… module construction