I have been waiting to visit the Model Railroader Expo for two years now, considering I had to bail out from the one held in Peabody,Mass. in 2011. It seemed unlikely that I would make it this time either but fortune favours the brave and I decided to make a dash for it ……
Day 1 Nov. 3rd & 4th 2013– Del–Fra–Bos
I happened to fly out on Diwali night , a big Indian festival and  therefore the airport was deserted ….. check in , immigration and boarding was all super quick…..and an on time arrival at Frankfurt where I caught up with all the action …. three A380s in a row , flanked by two 747s and then an opportune sighting of the old Lufthansa paint scheme on an A320…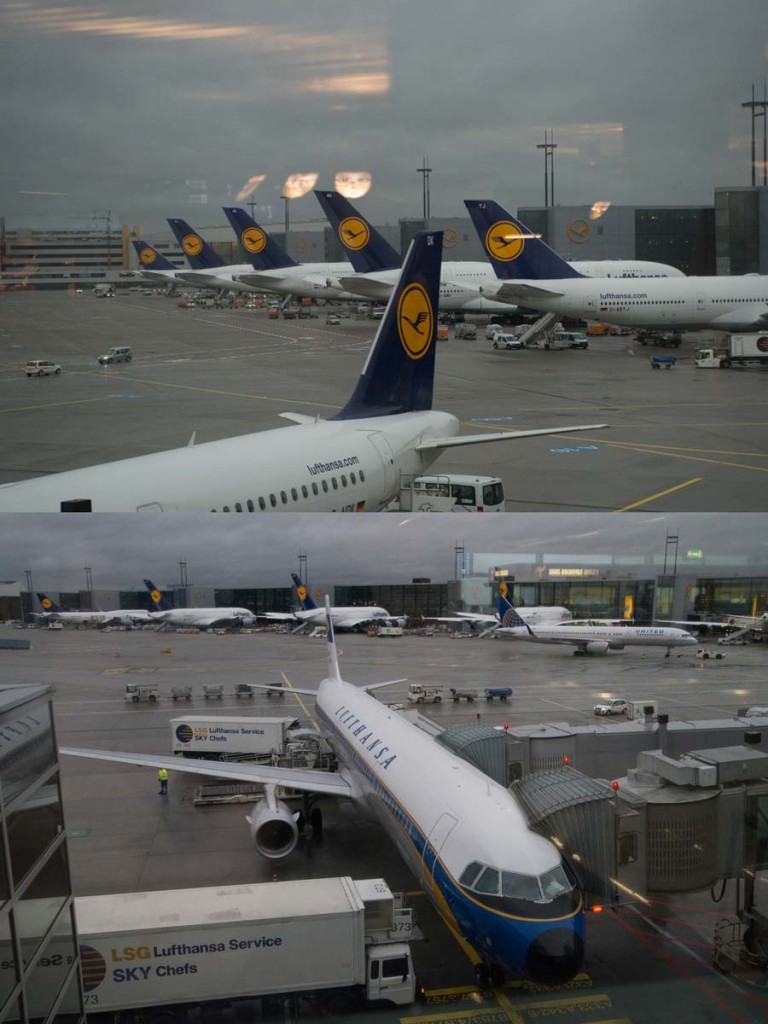 and an on time departure with an on time arrival in boston…..
Day 2 – Nov 5th 2013 – The Franklin & South Manchester Railroad
This day will remain forever etched in memory for I got to visit the fabulous Franklin & South Manchester Railroad  built by George Sellios of Peabody Ma. That one man can achieve so much is astounding and the layout has to be seen in person to be believed.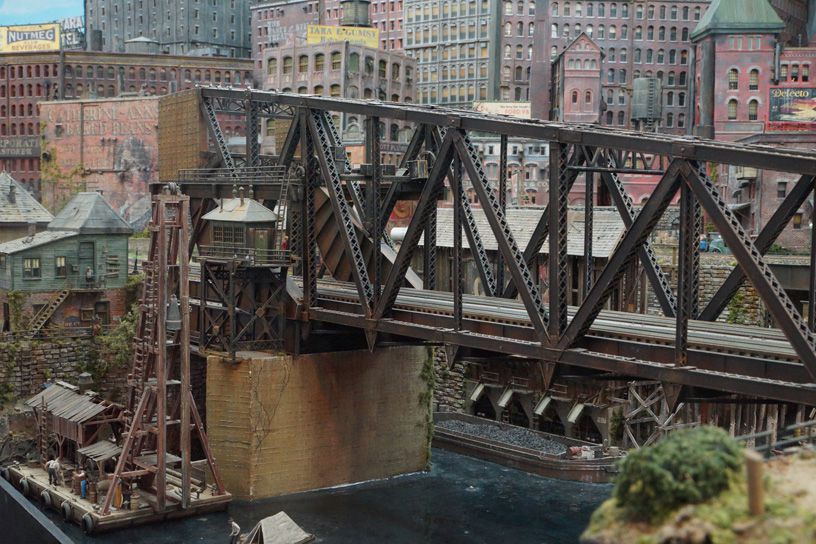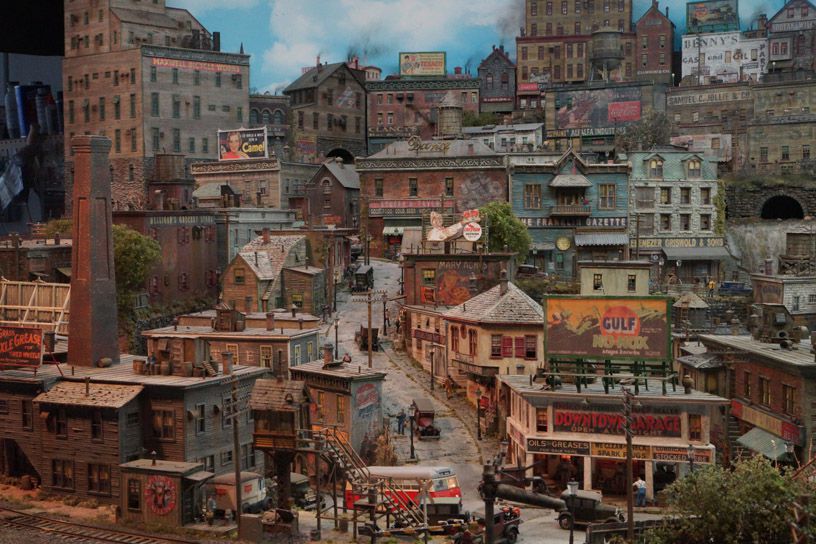 He has a no photo policy but that obviously did not apply to our small group of Expo attendees and we clicked away to our hearts content. Having secured George's permission to upload the photographs i took, you can find more in the  photo gallery by clicking on this link…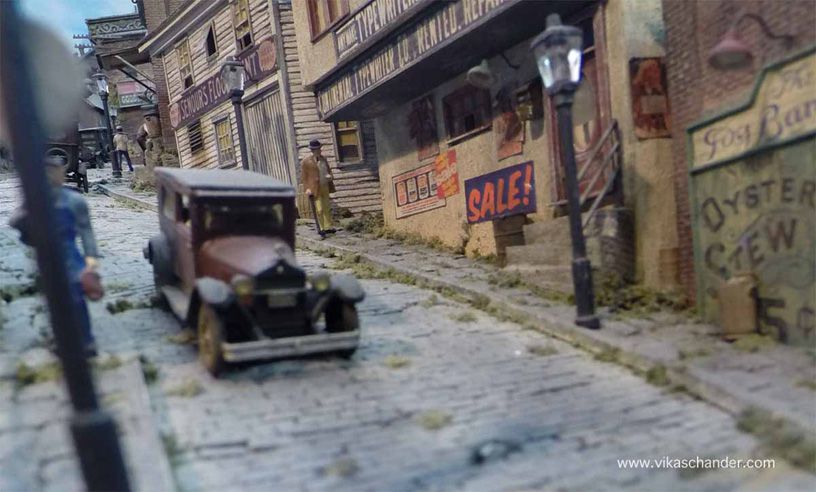 George was an extremely gracious host and made me feel very comfortable. All in all, I spent about six hours in there and when it was time to go I always wanted that one last shot ….. to be cherished and treasured for the living years ….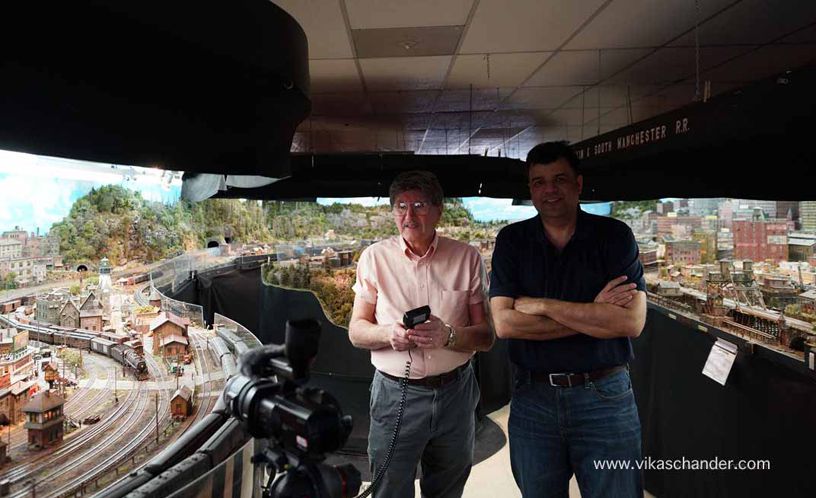 Day 3 – Nov 6th 2013 – The Hoosac Valley Railroad.
After a three hour drive west from Boston , I had arrived at Pittsfield the previous night and checked into the Crown Plaza Hotel.
On the  layout tour setup for Expo attendees was Dick Elwell's beautiful Hoosac Valley railroad .

After the grittiness of the F&SM the previous day , this was a completely different model railroad with its numerous craftsman kits…..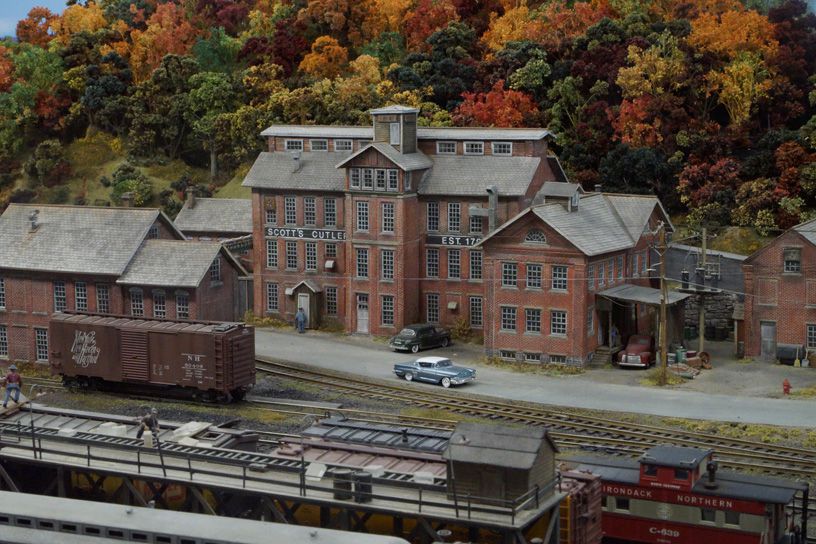 One got a sense of openness with its beautifully done scenery and wide aisles to view them from…..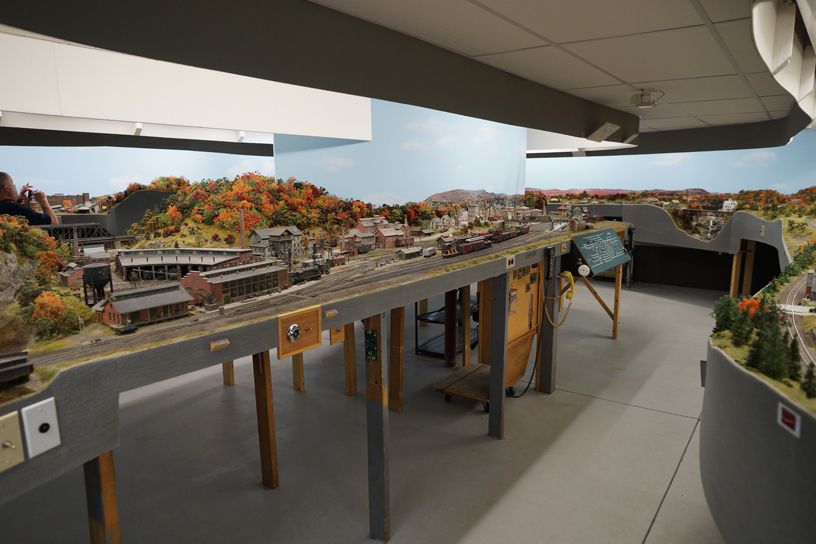 New England in fall was always going to be spectacular …….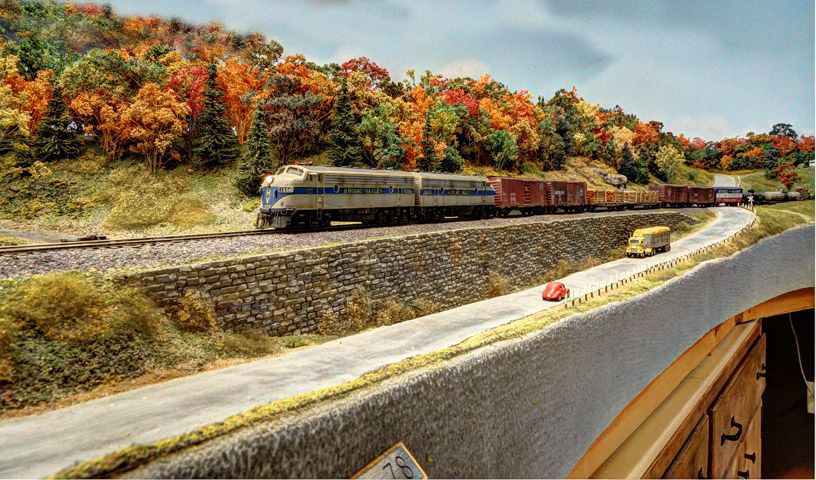 Dick also made me feel very welcome and his layout must rank right up there with the best in the country . I spent nearly four hours in there and will put up a photo gallery as time permits alongwith some videos ……
 Day 4 – Nov 7h 2013 – The Platinum Clinics
First up was Dave Revelia with his " Behind the Scenes Clinic". Dave is certainly a master at super-detail weathering and I also learnt that he runs the Suncoast Center for Finescale modeling down in Florida . We got down and dirty in putting together a section  of a wall and floor of what would have been an O-scale machine shop…..  Dave showed us how to use chalks and stains , Dr Ben's products , dry brushing techniques  and to top it all black boot polish to pop-out those details…..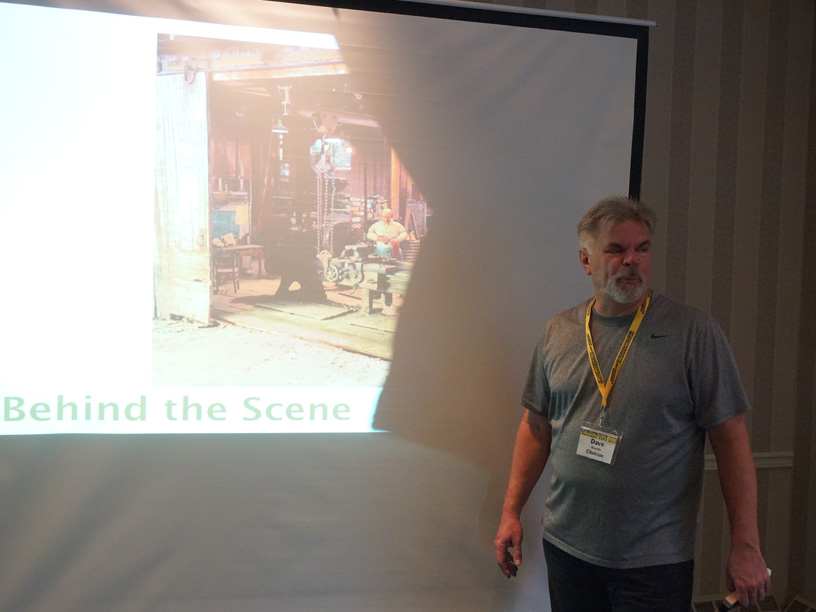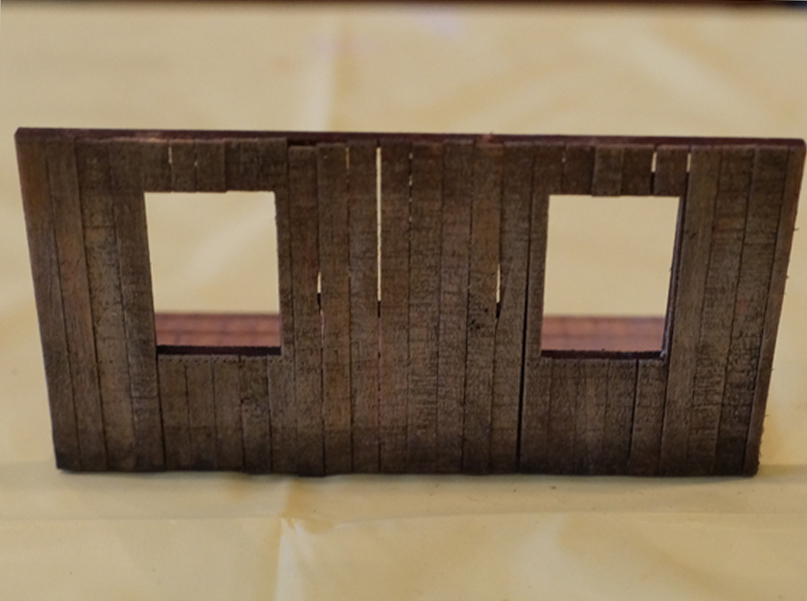 Immediately , after that was the Pan-Pastels clinic by Roger Malinowski in which we learnt the use of a new product called Pan-Pastels, which is basically the pigments found in paint but without the binder . I found this a very easy product to work with which gave great results and in the event that one made a mistake , you could go back and easily correct it . I would certainly look to buy a few sets to take back home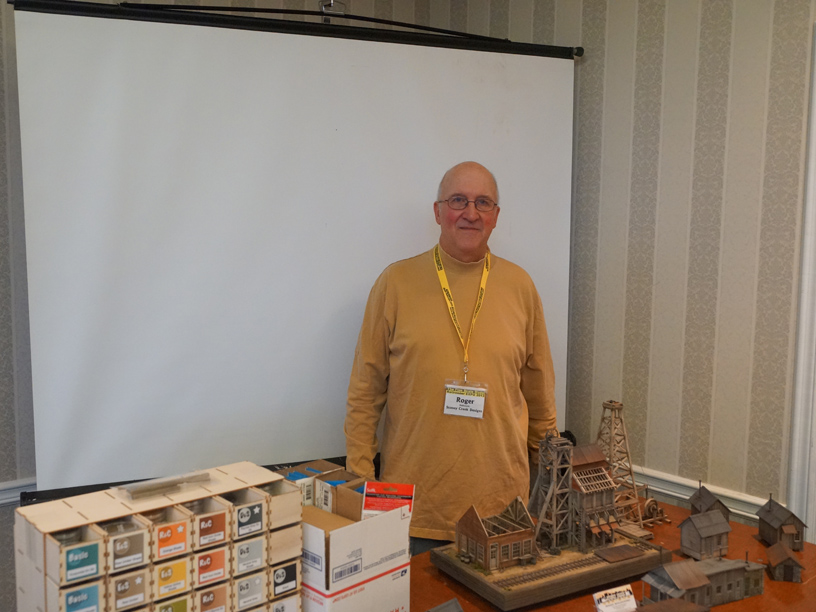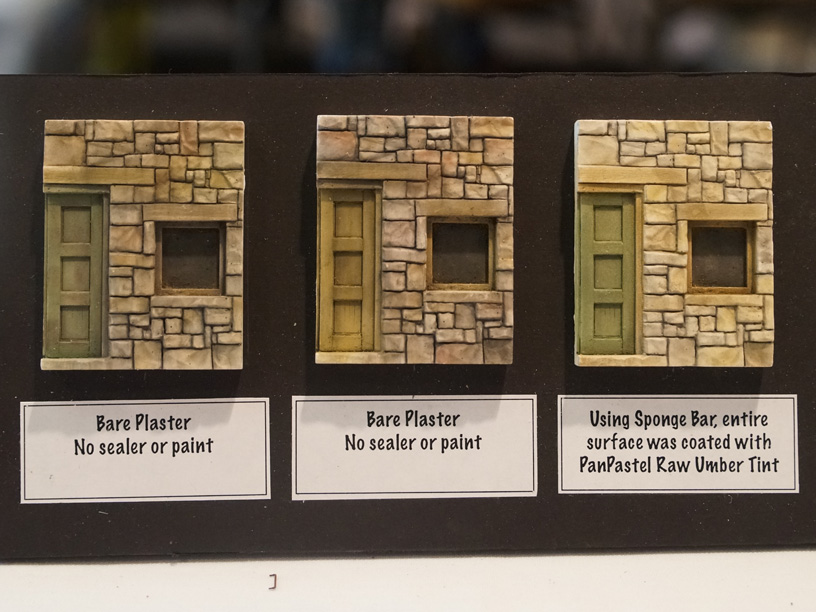 After a welcome lunch break ( each of these clinics last about 2.5 hours ) it was the turn of Dave Frary's – Where the Land Meets the Sea clinic – over the years we all have come to learn about Dave's techniques thru his numerous books and videos but it was always great to brush up on them under the watchful eyes of the master himself. At the end of it all , we all managed ( 20 people to a clinic ) to take away Deignan's wharf , seen below ….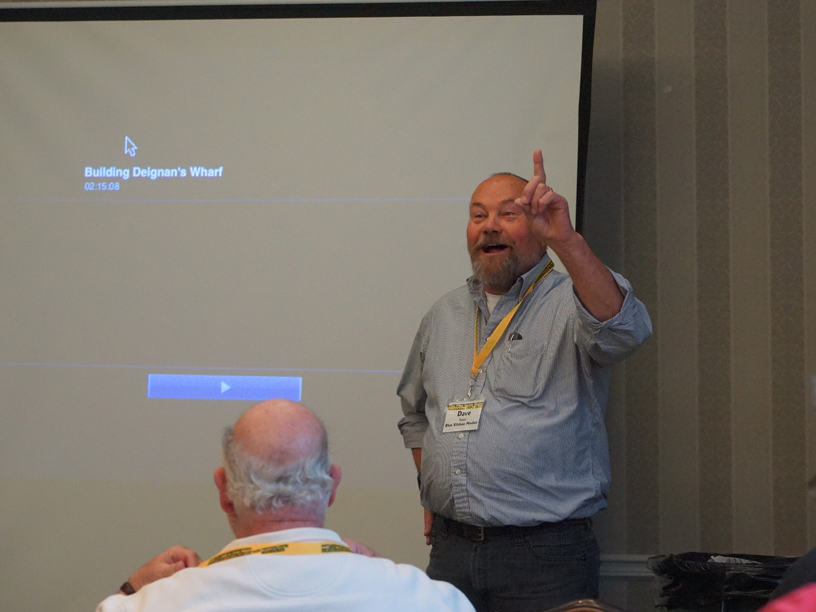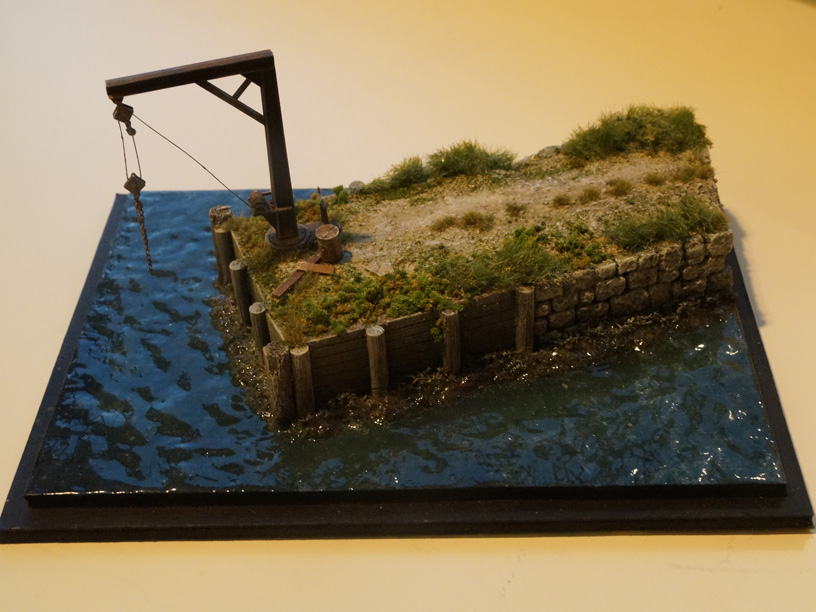 The last clinic of the day was Brett Gallant's Techniques for the diorama builder. He strongly believes that the two elements which make or break a craftsman kit is the strip wood and the cast details and their painting and weathering are the key ingredients which are of utmost importance. Brett was really warm and friendly and his easy going but somehow hyperactive demeanor, held me in rapt attention throughout .  We learnt how to add knotholes to strip wood and band sawing effects. We also painted some castings and learnt about paint chipping techniques which was great.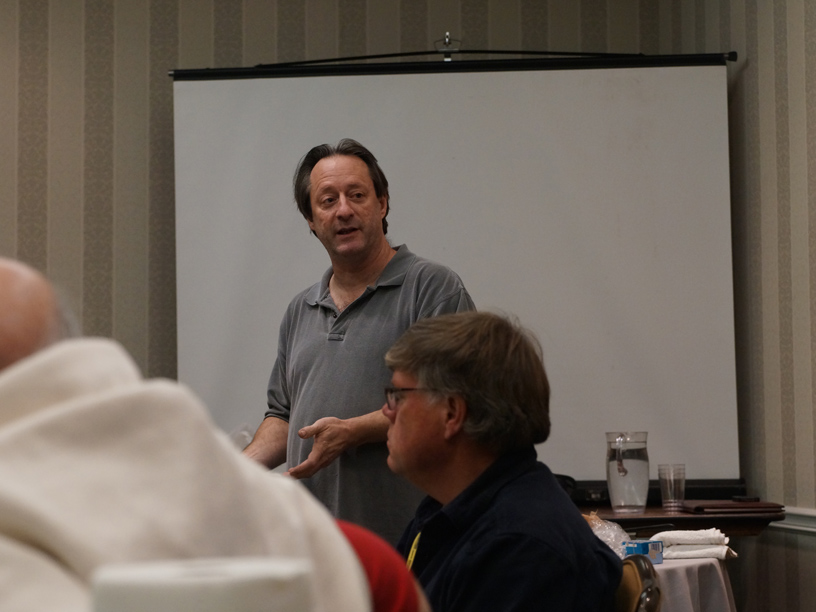 Day 5 – Nov 8th 2013 – The Vendor and Contest Rooms
The vendor room opened at noon and I managed to stock up on some super details parts from Crow river, rock molds from Sterling Models, leds and lighting assc, a couple of craftsmen kits and some other items which caught my fancy. It was good to finally come face to face with kit manufacturers like Bob Van Gelder of South River Modelworks, Doug Foscale of Fos Scale Models and Brett Gallant of Sierra West model …. whose  kits i have been buying over the years…..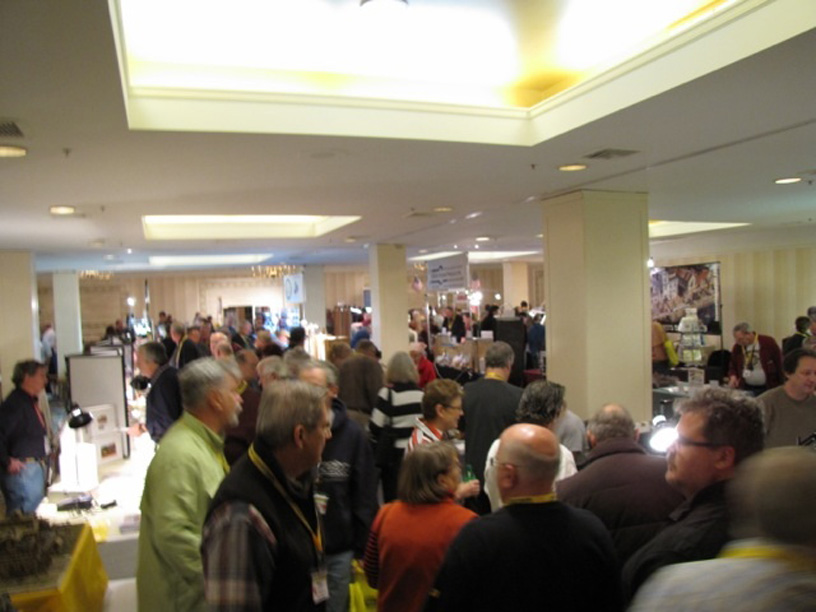 pic by jamie
After about two hours of feeding frenzy , I strolled over to Doug's clinic. This was a clinic and was not so hands on and intense as the platinum clinics are, but informative none the less …..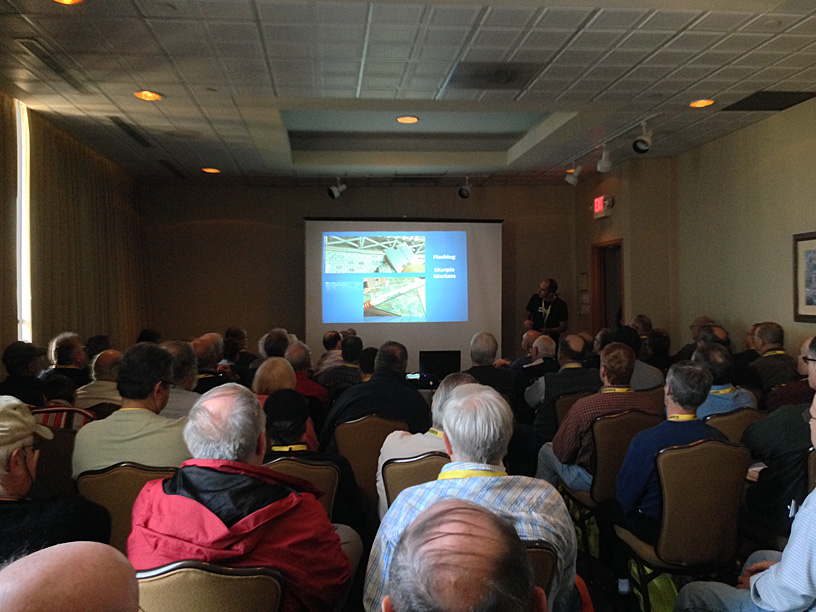 With very focused attention I entered the sanctity of the vendor room which was in the charge of Bob Mitchell at that point. He was a complete sweetheart and let me click away to my hearts content at close range with my 24mm lens and also helped prop up some backgrounds. He also had a Z-scale steamer on hand which we shot a photo  of….

….the penny was his idea ….. i told him that in the photo it would look like as if the loco was going into crash into the penny but he would have none of it ….
I cannot compare the quality of contest modelling to previous expos since I did not visit them, but I was blown away by the sheer talent showcased in these models … excellent !!! .. I will let the photos below do the talking and as time permits will upload a full gallery.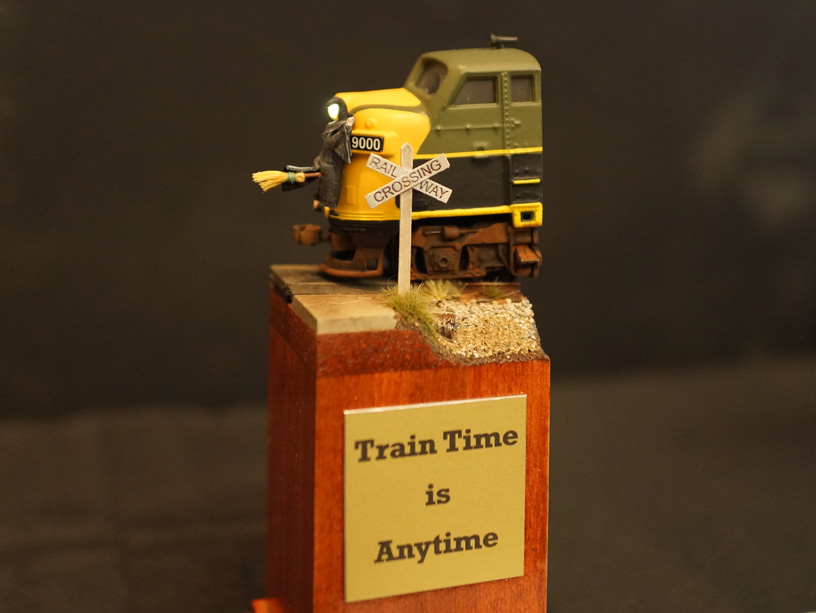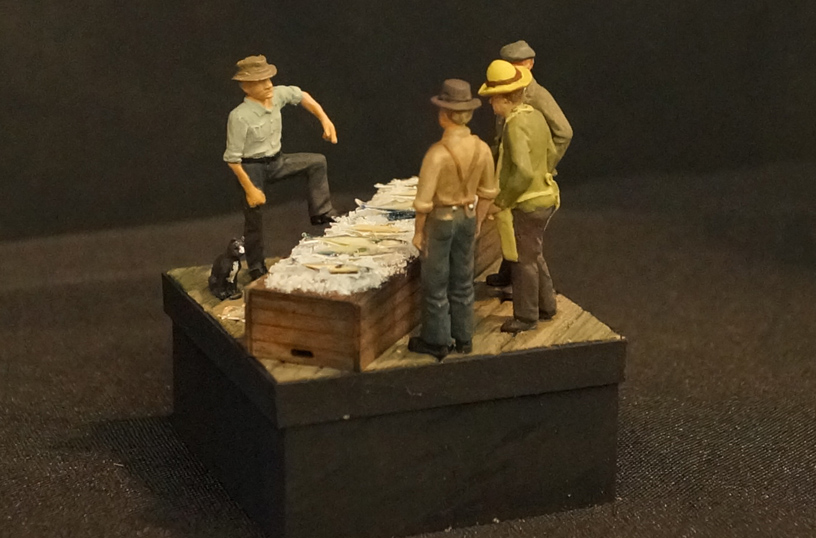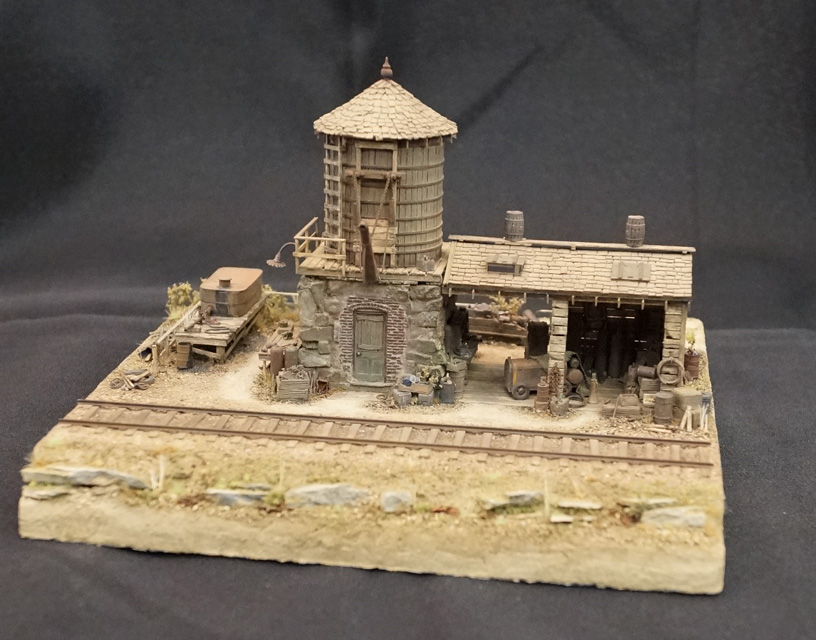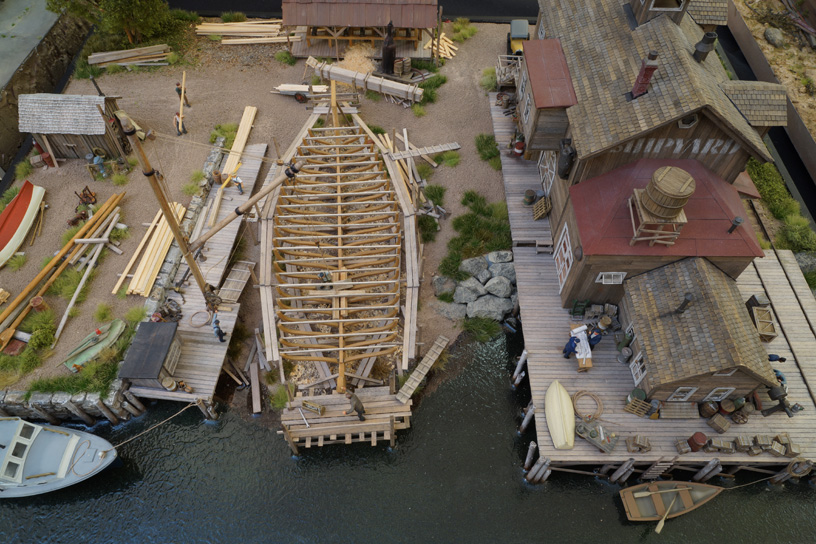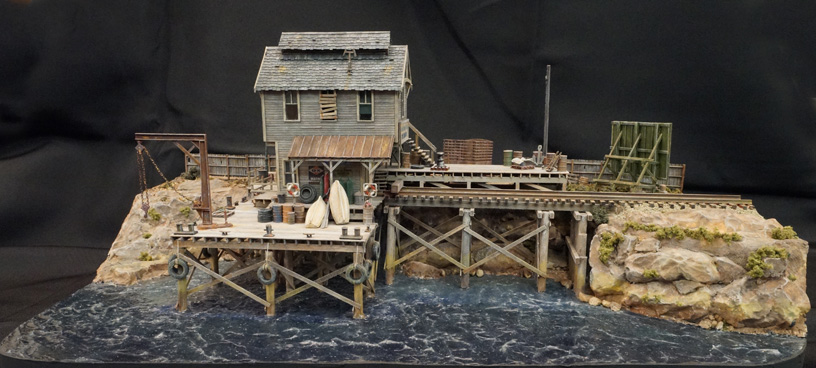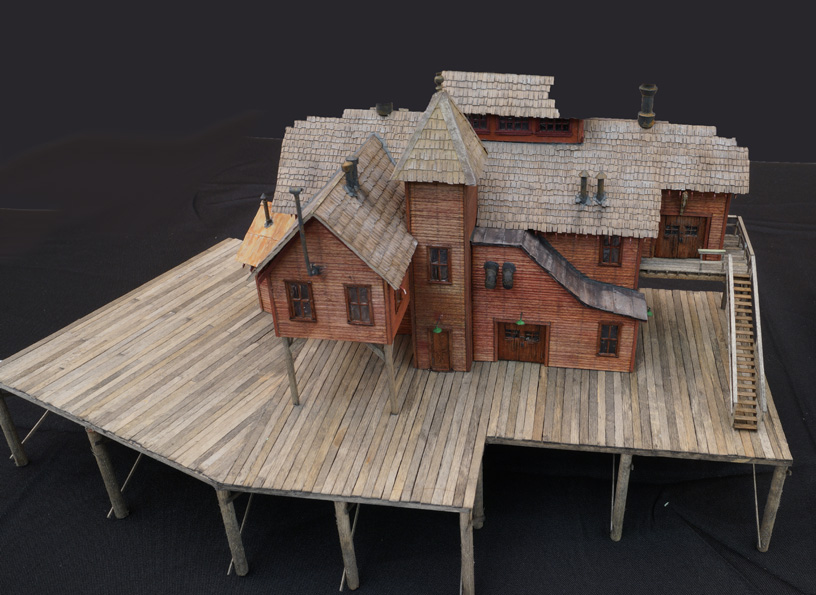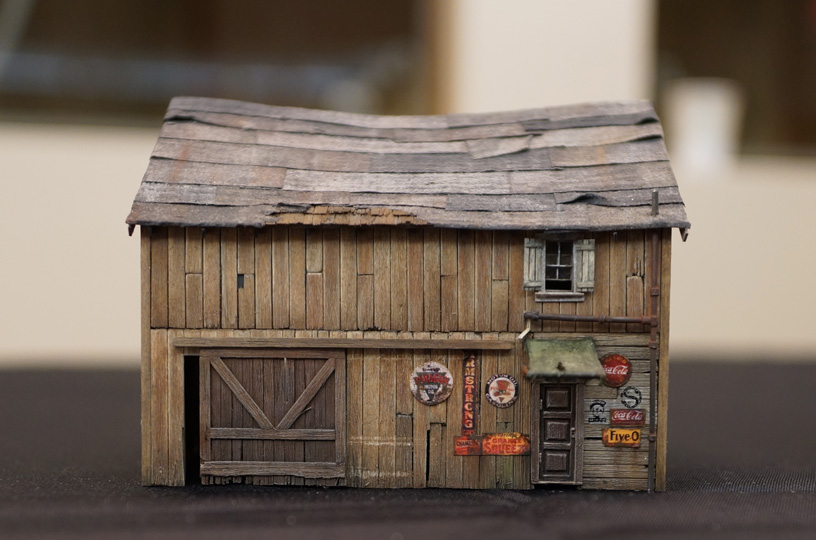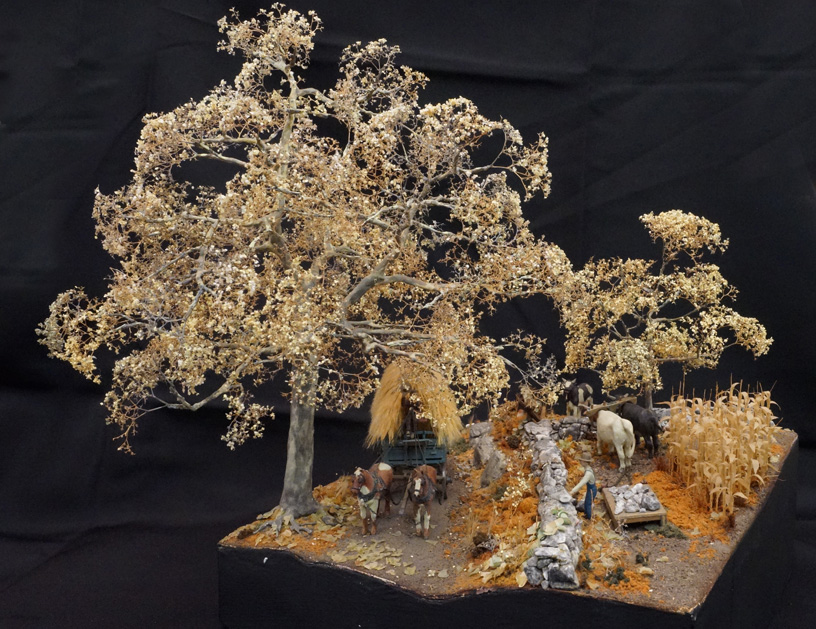 Later, I attended a photography clinic by Dave Frary and then went down to the Underground pub in the hotel for the " meet and greet" party which had all but wrapped up by the time I reached there late in the evening .
Day 6 – Nov 9th 2013 – The Vendor and Contest Rooms
The day started at 8 am, with a clinic on the making and supelevation of roads by Craig Vreeland of Sterling models . This was quite a ground breaking approach to making roads, and I would definitely give it a try, if and when the time for it comes on my layout …..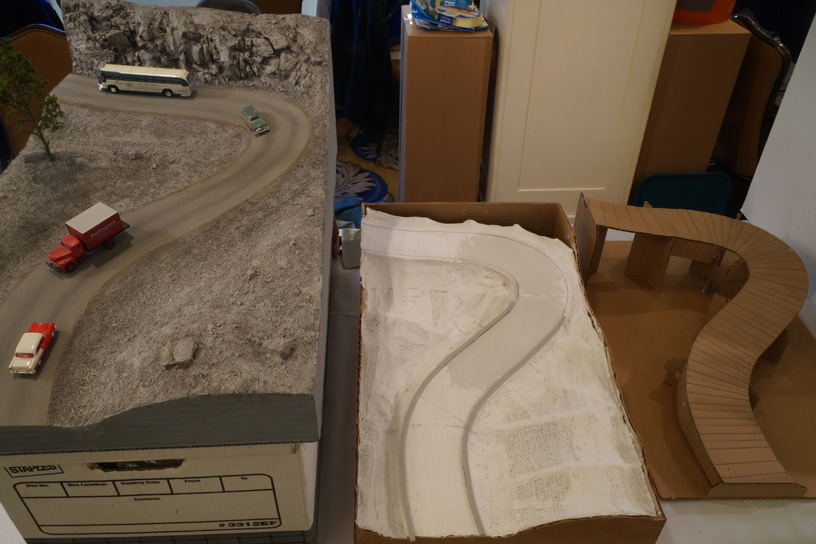 I spent a lot of time in the vendor room taking a lot of pics. The Red Hook wharf by Doug Foscale took center stage amongst all the exhibits and even though I had sworn I would not buy "yet" another craftsman kit , I ended up buying two – the Red Hook wharf and Pier 27. I took quite a few photos of the Red Hook Wharf diorama display and will upload a gallery on it having duly secured Doug's permission to do so …….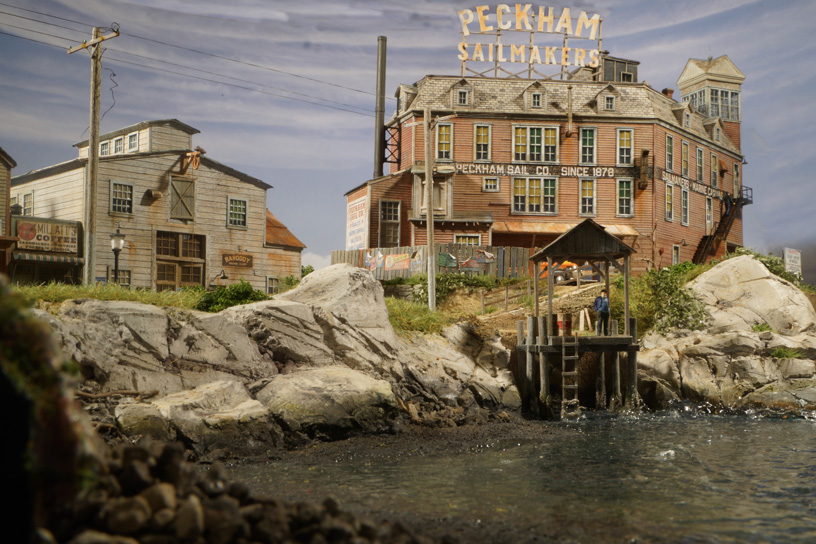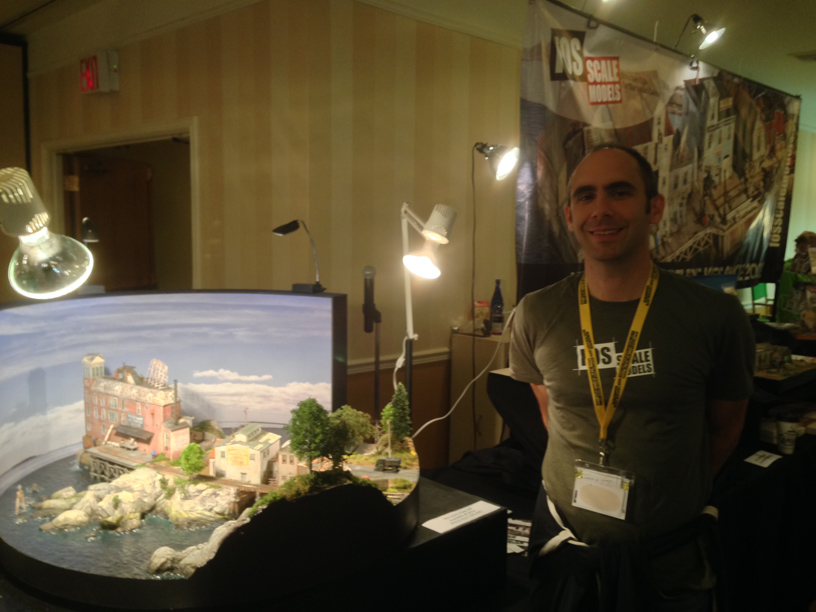 I spent some quality time with Bob Van Gelder of South River Modelworks. I have bought all his kits right from his first one – Kit # 110 Delabarre Tap & Die. This time I bought kit # 360, H.Meyers & sons. I think his kits are absolute top notch and his instruction manual could easily form a scenery and structure building book in it's own right.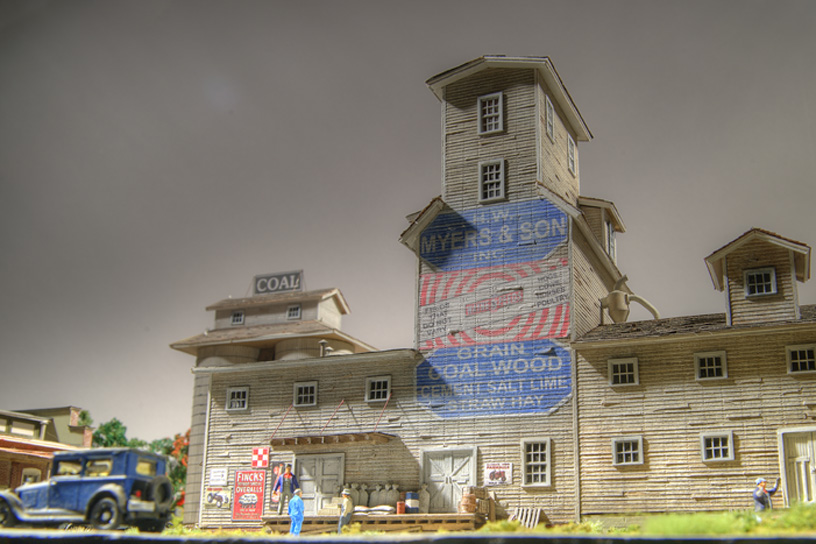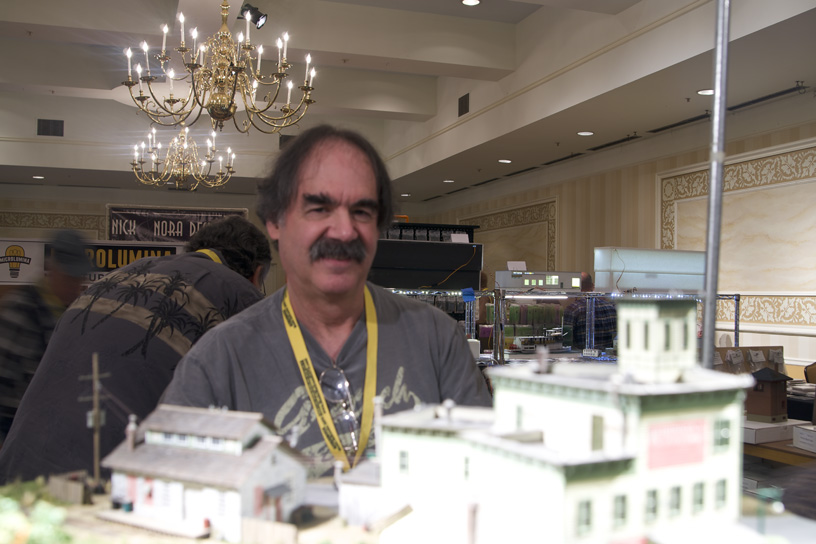 After looking around some more I went up to the contest room again to look at the models on display there. I could not tire of looking at these models , such was the level of craftsmanship.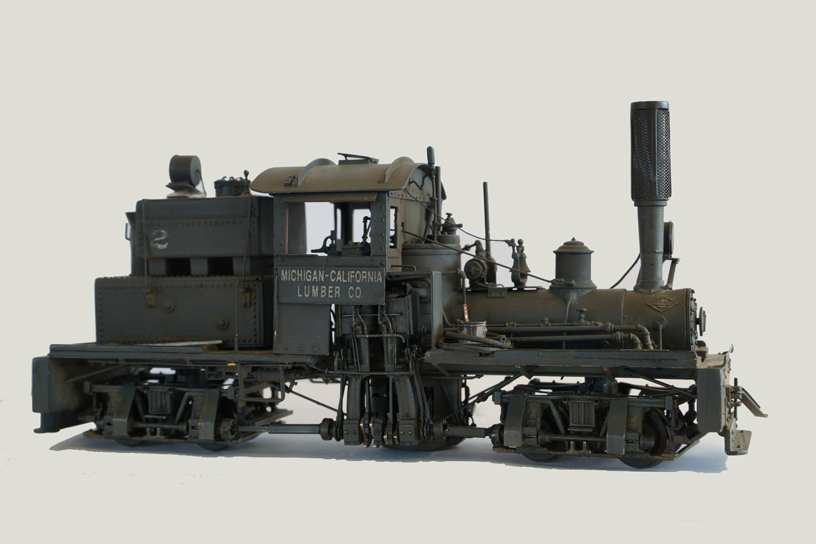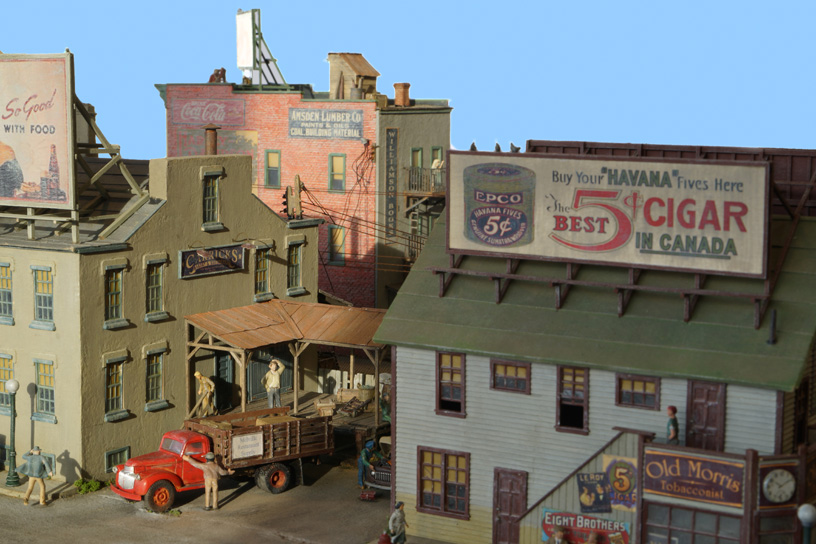 Later on in the evening there was the banquet dinner, which was quite a fun affair,  with Bob Mitchell and Bill Obenauf having us all in splits ……

The " model of the expo" award was given to Joel Freedman for his backwoods mining diorama ….. a cash award of usd 1000 and of course the joy of achieving something great !!!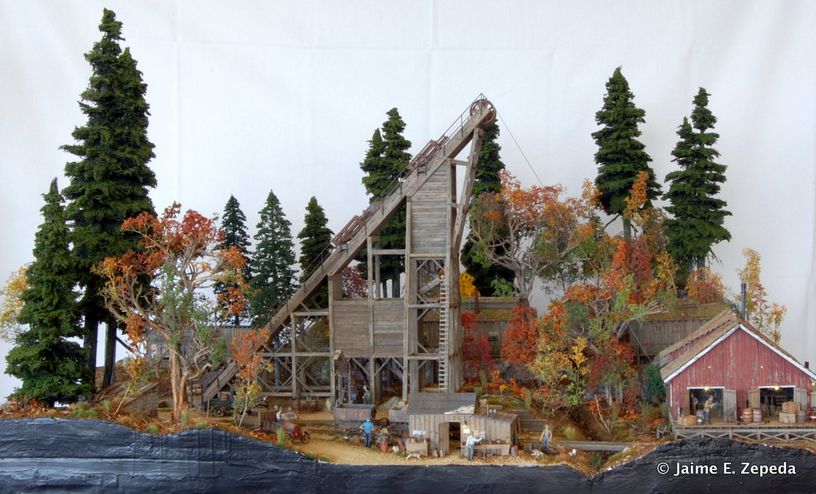 pic by jaime
Day 7 – Nov 10th 2013 – The Layout tours.
There were many layouts on offer for the expo attendees but most were open only between 10am and 2pm. This meant one had to pick and choose the ones which lay in the general route to one's final destination , in my case Logan International …..Bearing that in mind I first visited Bill Duffe's LJKW layout . Housed in a 18'x20' room the layout is fully scenicked and has many craftsman structures on it ……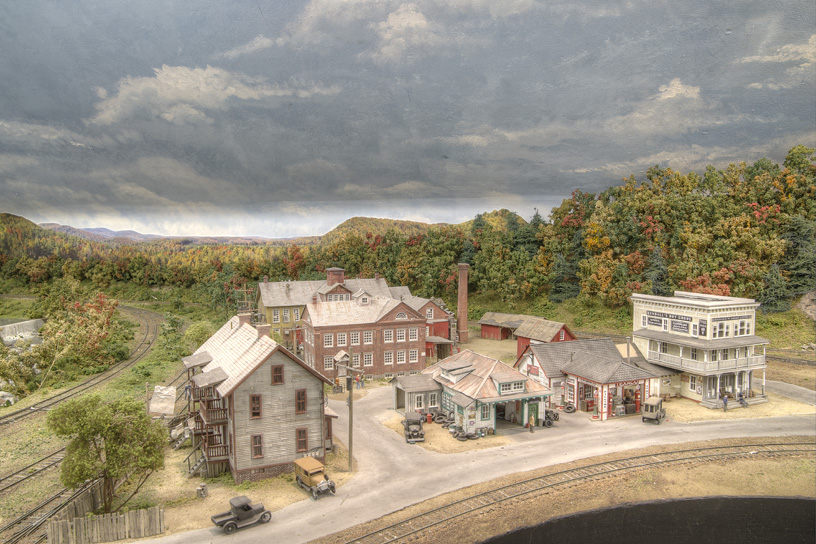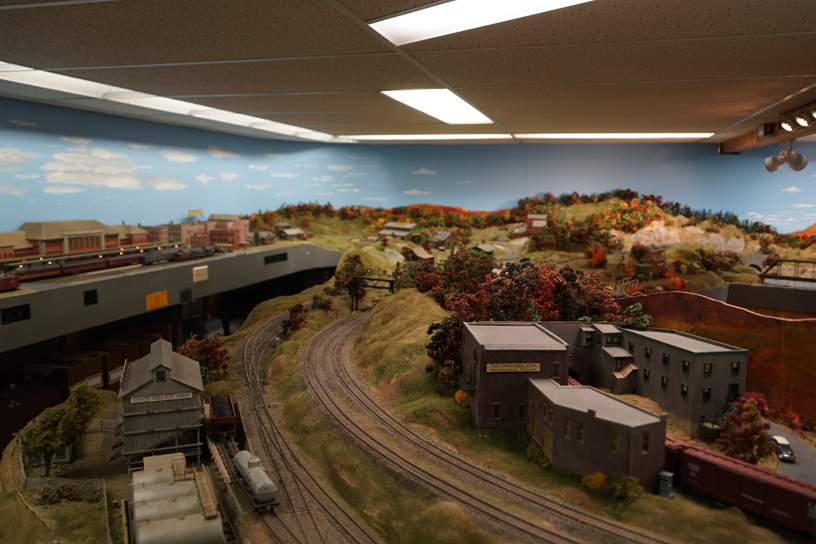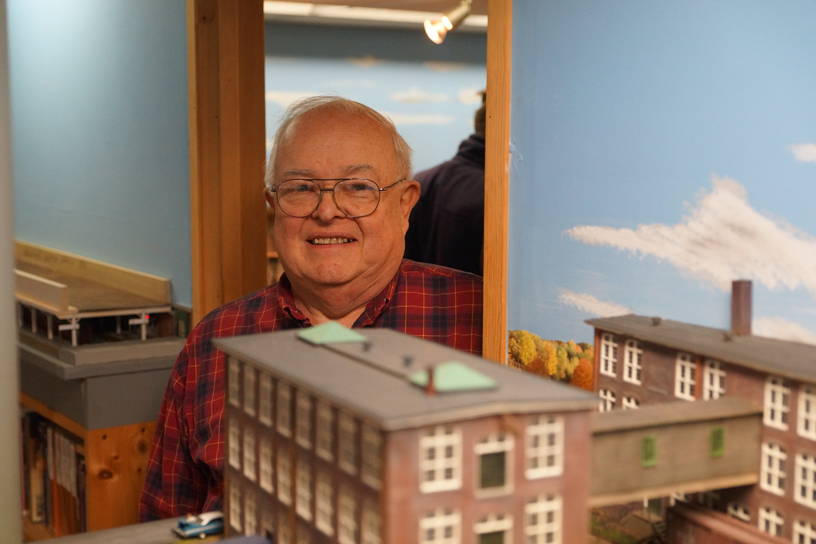 Later on I went to Bob Van Gelder's layout which though not completed, has many of his South River Model works craftsman kits on display …..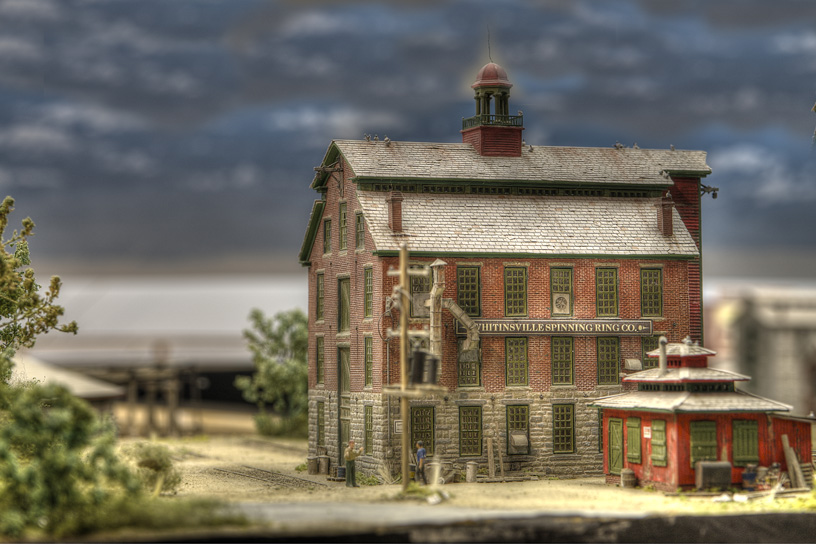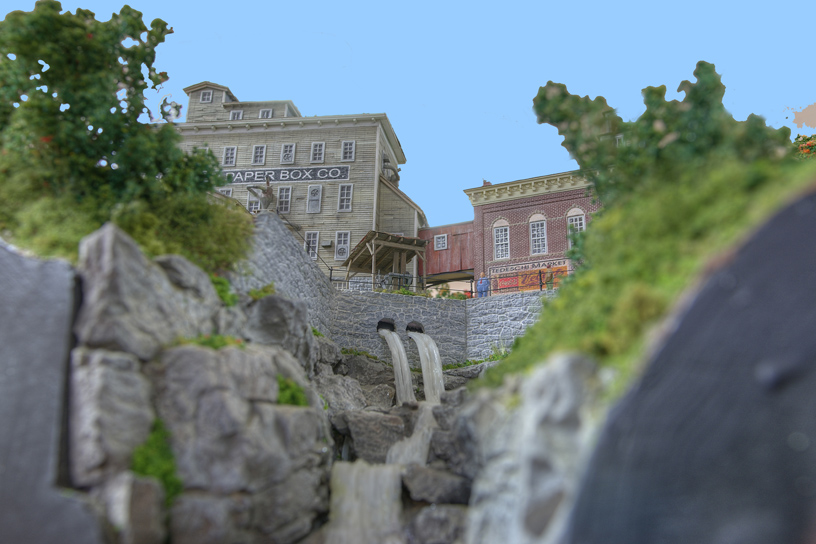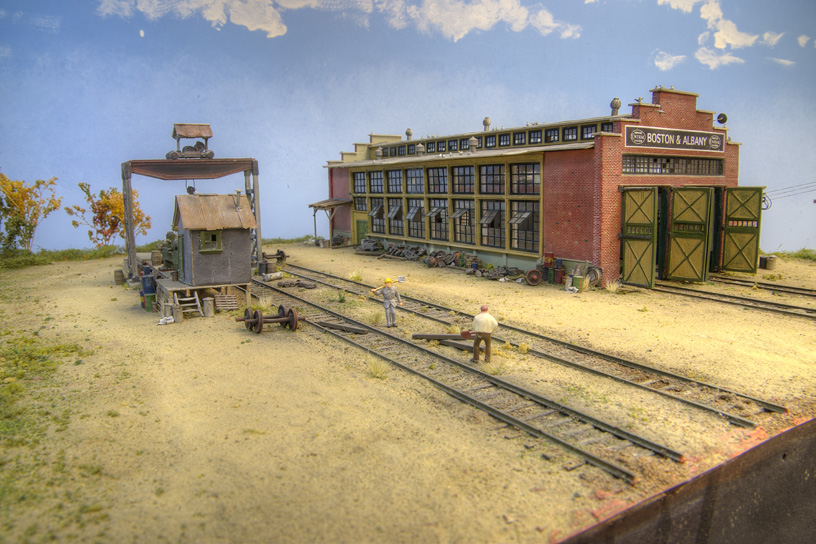 His workshop was also on view and it was a great to get a closer  look at the mind of a master craftsman and his tools. After looking at his massive cabinet of castings, i wondered why he was not offering them as a separate purchase to his customers….. I am guessing that would undermine the exclusiveness of his red boxed kits …..

By now it was 2pm and the layout tour was over, so I made my way towards Boston stopping at the Burlington mall to look at the Microsoft store. They had a Makerbot 2 Replicator , 3-D printing machine on display ….I am considering it's purchase but somehow those layering lines always manage to put me off ……maybe the technology needs to evolve a little bit more……
This brought to an end my trip to the Finescale Model Railroader Expo 2013 and I really enjoyed making new friends and interact with the manufacturers of all those craftsmen kits I so love to collect.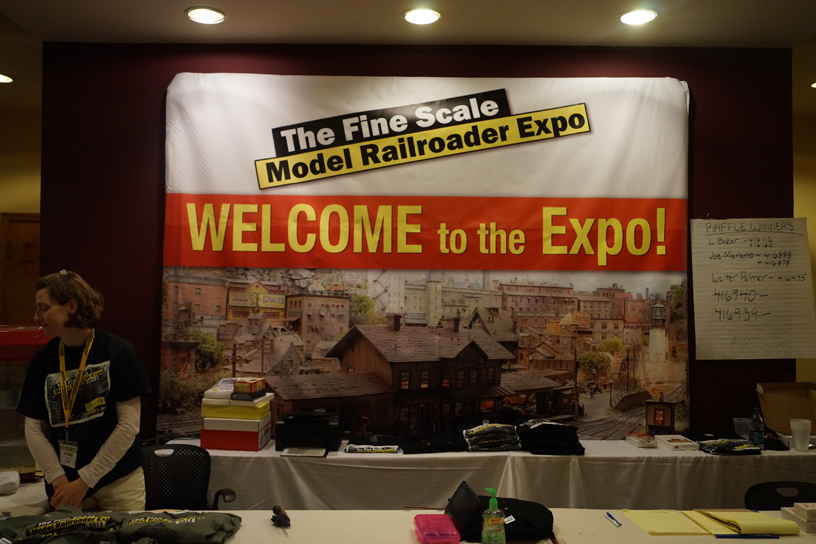 A big thank you and hug to Jaime Zepeda who took me under his wing and made me feel as if I belonged to this small community of craftsmen kit enthusiasts ….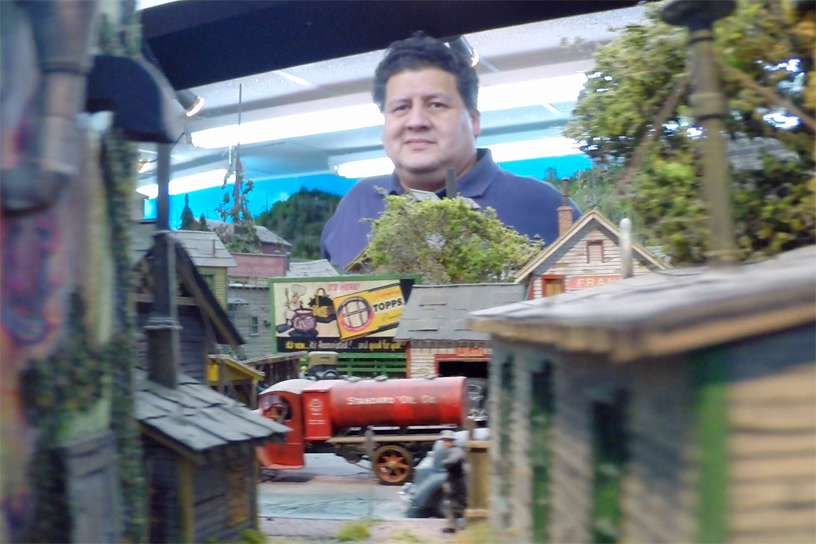 That I could visit the Franklin & South Manchester and come  face to face with my model railroading hero – George Sellios – meant that I could tick one off my bucket list …..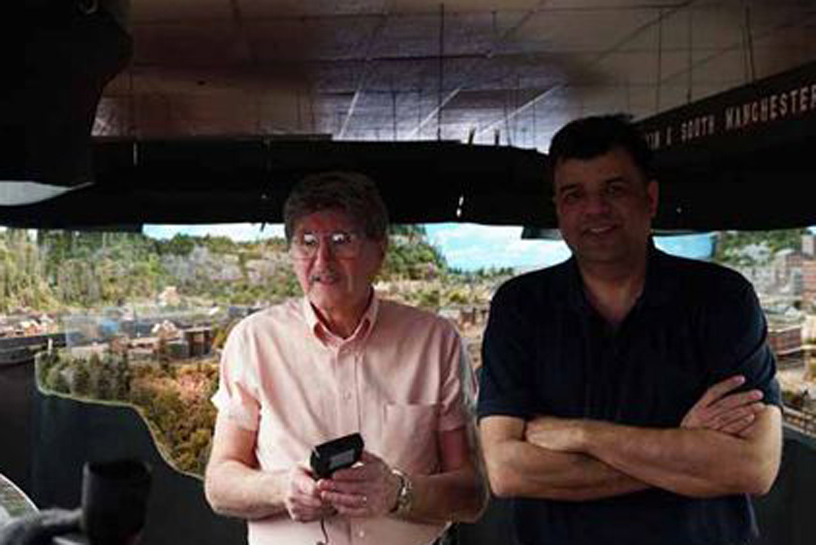 And finally accolades are due to the organizers themselves  – Jimmy Deignan , Doug Foscale, Hal Reyonds and Robert Seckler , who all did a great job in putting this show together. Well done guys !!!  and looking  forward to the next ……
more pics of the Expo can be viewed here…..